The level of productivity that can be unlocked with a 3D printer is limited only by the user's imagination. 3D printers are incredibly flexible when compared to most manufacturing machines, which is probably why Nokia made the 3D Systems Figure 4 3D printer the heart of their Factory in a Box.
Our ideas, our vision is to bring in a manufacturing line in a really small environment. Robert Frohler, Innovation Specialist at Nokia
The 20-foot shipping container is packed with Industry 4.0 hardware and software, including augmented reality/virtual reality (AR/VR) and robots in addition to the 3D printer. The Figure 4 Standalone is an industrial grade SLA (stereolithography) 3D printer capable of Six Sigma repeatability (Cpk > 2). It can print in a broad range of materials, such as durable rigid plastics, flexible rubbers, castable materials, and biocompatible materials, and it can make hundreds of parts per month. The Figure 4 production system can be scaled easily for different volumes of production.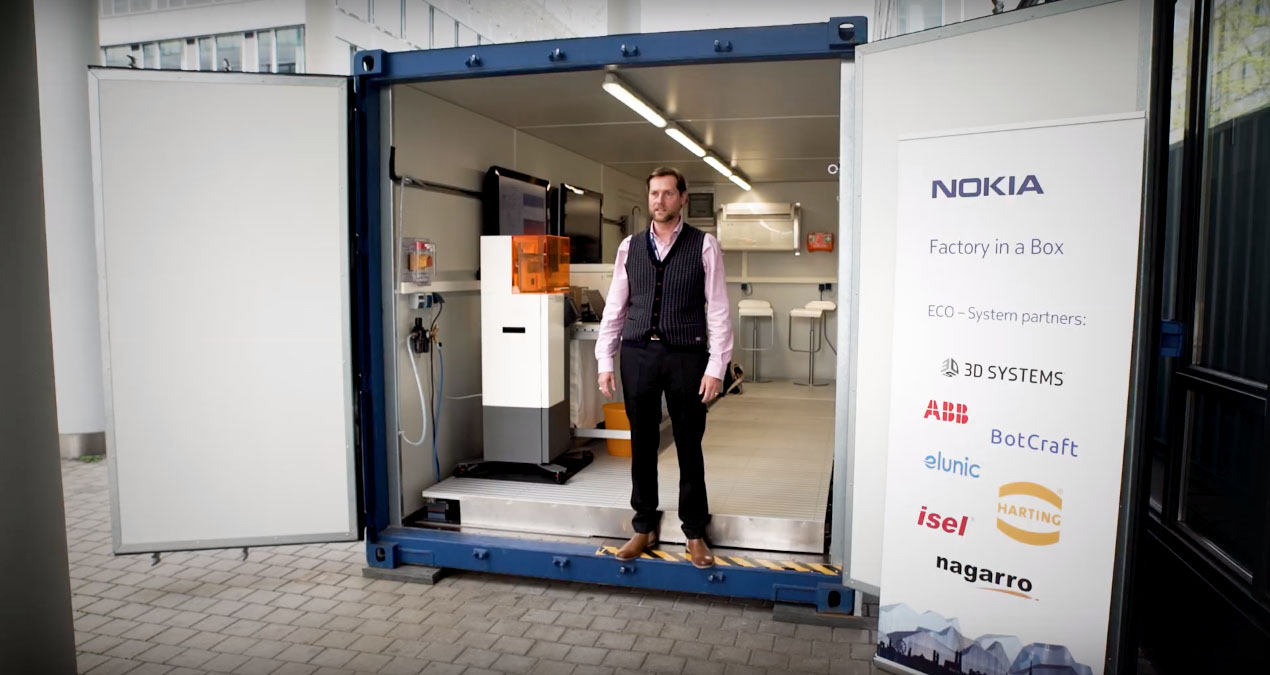 Factory in a Box
The Factory in a Box is fully capable of remotely manufacturing small electronics with semi-automated assembly processes. The PCBs aren't produced in the FiaB, though that's certainly a feature that can be added in the future. The workflow goes something like this: technicians wear AR eyepieces that provide prompts and assistance for the various steps in the specific manufacturing run, from starting a 3D print, to cleaning it, to UV finishing it, to placing it in the bins for the robotic arm to assemble. The arm can even position its bins automatically for the most efficient operation. And it's all tied together with Nokia's Worldwide IoT Network Grid (WING) and Digital Automation Cloud.
While the FiaB can do all those things, it mostly serves as a showroom that "demonstrates how Industry 4.0 solutions can be packed, transported, and brought back into service in a matter of hours, including full over-the-air connectivity." Manufacturing is becoming increasingly decentralized, in large part due to 3D printing but also thanks to robotics. Small and medium manufacturers can now offer faster turnaround services to local customers by the nature of being closer to them. And having a small manufacturing footprint obviously appeals to large manufacturers who want to save money by renting smaller facilities, so the FiaB does a great job of demonstrating the space-efficiency of an Industry 4.0 ecosystem.
But by putting the FiaB in a shipping container, it's made immediately clear that this is also a mobile unit and the reasons to have mobile manufacturing have been presenting themselves more and more frequently: conflict zones, natural disasters, remote locations, and viral outbreaks. The small footprint of 3D printers not only allows manufacturers to run leaner factories but also empowers humanitarians to offer more aid.