Californian dental 3D printing company SprintRay has just released a major update to its digital dentistry ecosystem. A whole host of new resin profiles, drastically improved slicing performance, and a new software feature dubbed 'Pixel Toning' were released. Let's take a closer look.
Pixel Toning
Unlike grayscaling features found on other 3D printers, Pixel Toning uses supersampling to more accurately represent details that might otherwise be constrained by resolution. Pixel Toning works by adjusting the light intensity for each individual pixel, scaling down the light power on smaller details to avoid voxelization. This results in smoother, more accurate parts.
Pixel Toning is a free feature for all SprintRay users. It's enabled by default when you update to the latest version of RayWare and PrintOS.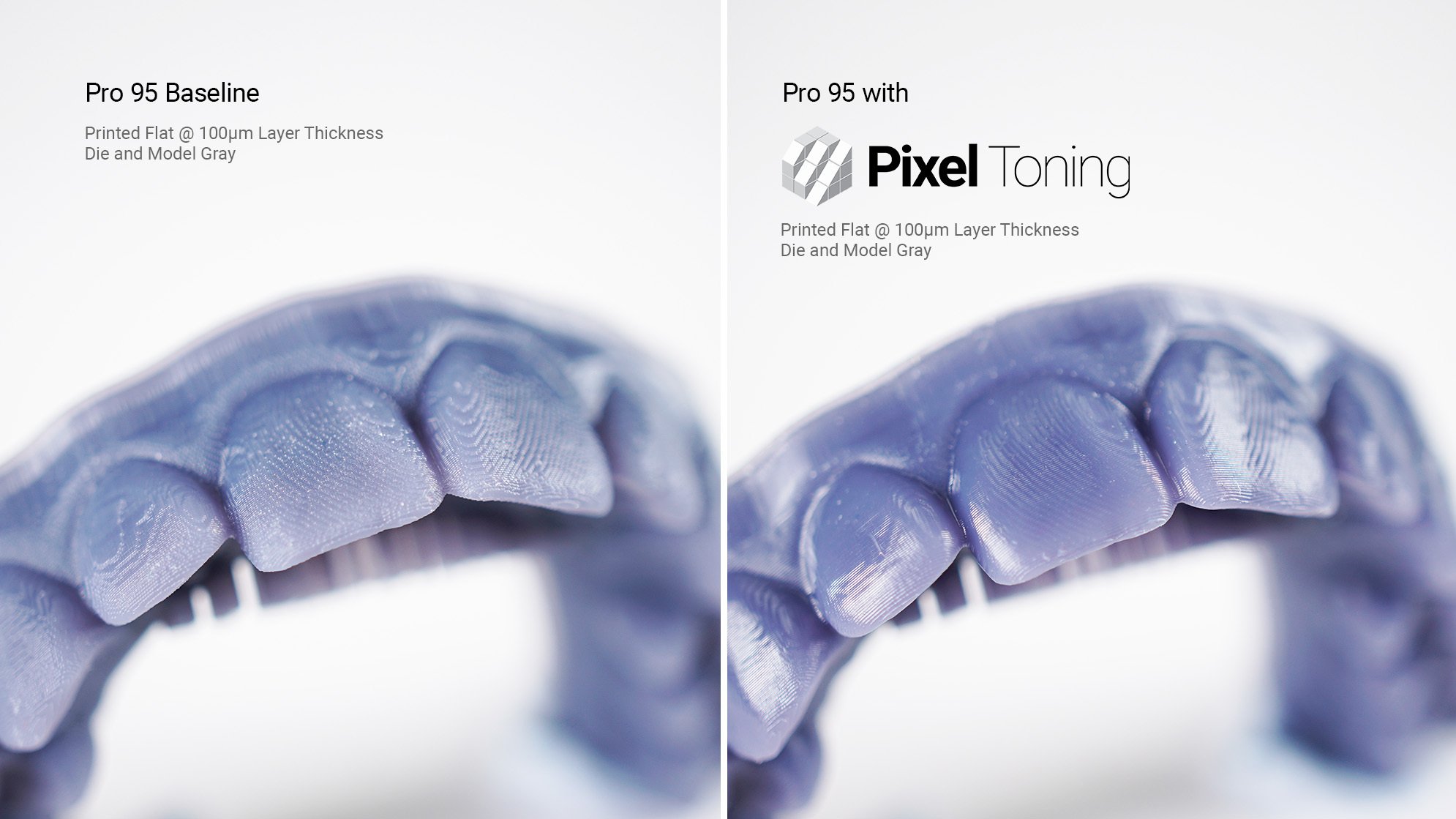 New 3rd Party Resin Profiles
Finding the balance between accessibility of materials, ease of use and high quality end-products can be a challenging task. SprintRay, however, continues to expand its library of compatible 3rd party materials.
New material profiles include:
Dreve IBT and Surgical Guide
DENTCA Provisional Materials
Bego Crown Materials
KeyStone Materials for MoonRay
Parallel Slicer
The new Parallel Slicer uses the resources of your computer much more efficiently than a traditional slicer. Rather than slicing each layer in a linear fashion, the Parallel Slicer divides your slices up into portions that are then distributed across your computer's available hardware. This results in extremely rapid slicing times compared to a traditional slicer.
Fast-Track Print Mode
SprintRay's new Fast-Track Mode enables you to print with thicker 200-micron layers. Patient with a lost retainer? Print a new model for thermoforming and have a replacement part done in less than an hour. Need a 3D diagnostic model for a patient analyses? You can have it printed, washed, and cured in 30 minutes. This feature is currently only available for the SprintRay Pro.
This new update shows that Sprint Ray intends to make good on their promise of "Future-Proof" products. We are looking forward to seeing what other developments the 'Summer of Rayware' will hold and what new advancements they will make for the digital dental market.
Images courtesy of SprintRay